We're proud to present the inaugural issue of "The Stand," EDG's online newsletter. Let us know if you have any feedback you would like to offer up or a possible article you'd be interested in contributing to our next issue. And please feel free to
share this with
someone who might be interested in what we have to say.
Sincerely,
Stan
---
THE INAUGURAL ISSUE OF EDG'S ONLINE NEWSLETTER
Right off the bat I'd like to state we've recently made some very exciting and innovative changes here at Evenson Design Group (EDG). Beyond offering some inspiring and creative workshops this past year at our Culver City office, we have recently given our building an interior makeover with the help of two highly effective consultants from
Language of Space
. Now more than ever, we are embracing a holistic business approach. The invigorating changes we're making at EDG within our company and with our clients is definitely creating a buzz. Today, we're more passionate than ever to bring you even greater results than what you've come to expect from EDG's dedicated practice in the field of brand development and marketing. And, we are taking a clear and deliberate stand, or "THE STAND" if you will, for not only expanding our awareness and capacity to practice environmental responsibility, but to become leaders within our industry to inspire and pave the way to a better world for all. There is no doubt that we will succeed in this mission as we collectively realize that we're all in this together.
READ MORE
---

---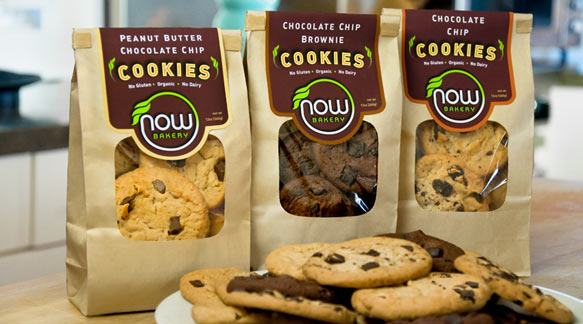 NOW… THAT'S WHAT I'M TALKING ABOUT!
Visionary, Founder and fifth generation baker, Ray Sutton, of
NOW Bakery
, "Nourishing Our World," has created a line of wholesome and decadently delicious no gluten and no dairy cookies for the health conscious.
Already equipped with an award-winning brand identity that EDG created initially, our designers kept the essence and integrity of the original NOW Café brand and developed a stunning NOW Bakery cookie packaging system. This package will attract customers with its powerfully bold and appetizing appeal. "Stan and his creative team has put as much of their heart and soul into the creation of this package as I do with every cookie I bake. You can taste the love in my cookies and see that love reflected back in the package design," states Ray.
NOW flavors include classics like Chocolate Chip, Chocolate Chip Brownie and Peanut Butter Chocolate Chip, as well as specialty flavors like Coconut Chocolate Chip, Carrot Raisin and Sweet Cinnamon Vanilla among others. In addition, to lessen NOW's carbon footprint, the cookies are being packaged in 100% biodegradable kraft bags that use recycled and post consumer materials and are lined with EarthFirst, a compostable film made from annually renewable plants. The label is printed on 100% post consumer waste paper that is FSC (Forest Stewardship Council) and Rainforest Alliance certified. So not only are NOW cookies absolutely healthy and heavenly, this conscientious baker is bringing his product to market in the most sustainable way possible.
---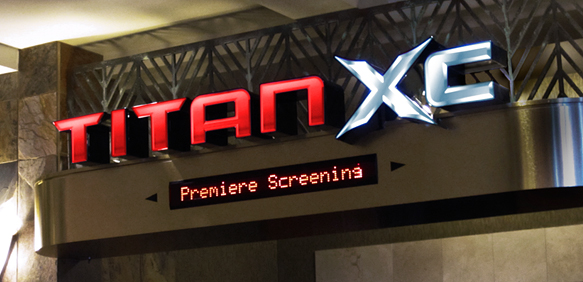 READING GOES EXTREME!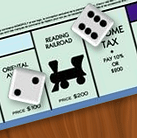 If you're truly an avid Monopoly board game player, you probably know that Reading Railroad is space #5 between "Income Tax" and "Oriental Avenue." But I bet you didn't know that this historical company was one of the first and most profitable railroads at one time! In 1976 they sold off all of their railroad assets to become a worldwide entertainment mega brand called Reading Cinemas. This corporation eventually evolved into Reading International with theaters that extend from Down Under to the Hawaiian Islands and from the great state of Texas all the way to the Big Apple.
Evenson Design Group created the brand identity for this giant entertainment company back in 1996. For the past 16 years, EDG has been providing Reading with brand extensions for many of their other subsidiaries, including the lavish Angelika and Regency theaters. Most recently, Reading asked EDG to name and brand their new extreme audio/visual cinema experience to compete with the likes of IMAX and other theater giants. The aptly named Titan Extreme Cinema is ready for the challenge! If you thought putting a row of hotels on Boardwalk was the ultimate experience, wait until you experience the new Titan XC Theater.
---
GREAT IDEAS, BACKED BY GREAT TECHNOLOGY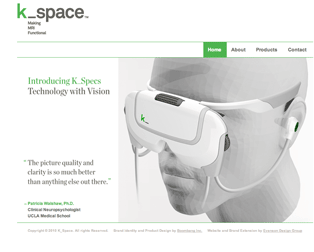 The web experience of today is richer and more varied than ever before and internet technologies are evolving and improving everyday. Combining the latest web features with business strategies can transform your site into a vibrant communication asset. Not ready to create an entirely new site? Try making updates to your existing site—it's another way to get noticed by customers.
When
K_Space
approached Evenson Design Group to refresh their web site and brand essence, we found that the old site used Adobe Flash to deliver key content on the home page. Using javascript instead of Flash was important to this client's overall strategy for reaching a wider audience with Search Engine Optimization (SEO) and compatibility with the iPad and other mobile devices. Using javascript gave us the advantages of Flash to have the client's brand font throughout the site and animate customer testimonials on the home page. The K_Space site also features an easy to use content management system (CMS) customized to their specific needs. Updates are easy. All the client has to do is log on and make edits.
READ MORE
---
FRIENDS OF EDG
We are honored and privileged to work and connect with some outstanding people and companies that support our vision and values or who are just a heck of a lot of fun to work with. In every issue of the Stand, we will introduce you to some of these exceptional individuals in hopes that we all may form a more expansive matrix of resources interrelated to who we are and what we do in the world.
This month, we are pleased to feature Pamela Edwards and Michael White-Ryan, consultants from
Language of Space
. Language of Space is a total Environmental Design Firm, whose focus is embracing a holistic business lifestyle for health and wealth, while balancing mind and body, ultimately empowering people and businesses to an optimal state of success and well-being. Recently we have been working with Pamela and Michael to transform our office space to stimulate a healthier and more prosperous working environment, not only for everyone who works within EDG but also to everyone we work and relate to outside these walls. Our perspectives are expanding and changing and new and exciting opportunities are moving towards us.
Taking steps to green your workplace can mean a smaller ecological footprint while creating a healthier, more enjoyable and productive place to work—all good for People, Planet, Profits and Purpose. No matter where you are on the green scale, some simple and practical steps can improve your quadruple bottom line.
Summer Tip: This season of course brings sunnier days and warmer weather. Unfortunately, those of us who work indoors rarely get to see the light of the day during regular business hours. When things really start to heat up, instead of turning up the air conditioning, consider opening up the windows in your office and letting the natural airflow cool things down. Not only will you reduce energy consumption, but a breath of fresh air clears the mind and stimulates creativity and energy flow. Let the light, sounds and air fill your work space and energize your staff while reducing your energy costs.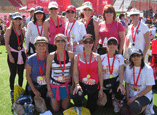 Tricia and Tim participated in the EIF Revlon Run/Walk for Women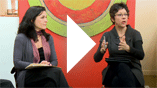 Latest Workshop Video
Get inspired by watching our 4 min. recap video featuring Maggie and Tamra.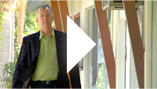 Meet the Team
Watch our video featuring our team members discussing our core values and showcasing recent projects.
Stan Evenson
Tricia Evenson
Mark Sojka
Tim Moraitis