Stan Evenson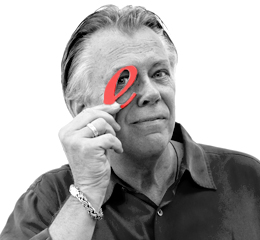 It is the province of knowledge to speak. And it is the privilege of wisdom to listen.
—Oliver Wendell Holmes
Founder, CEO, Creative Director
Stan earned his BFA from the prestigious Art Center College of Design in 1974 and was immediately hired by his former professor to join their creative team at A&M Records. After designing album covers and music industry advertising for top recording artists at A&M for a stint, Stan Evenson opened his own full-service design/branding firm in 1976 which has been authoring successful brand solutions for over four decades. As CEO and Creative Director of Evenson Design Group (EDG), Stan has directed his team to create highly effective solutions for brand identity, advertising, packaging, environmental signage, corporate collateral, exhibit design, web and interactive media. Stan also served as the President of AIGA LA (The Professional Association for Design) and was a member of the AIGA Advisory Board for several years. Stan has won numerous awards from AIGA, Communication Arts, Graphis, Graphic Design USA, and several other internationally recognized design organizations, has been published in countless books and periodicals and has had three design pieces selected for the Permanent Collection of the Library of Congress. Stan has a passionate commitment to sustainability in all aspects of his business. In 2011, Stan and his wife
Tricia were selected to be the co-chairs of the AIGA (Re)designAwards, an international design competition acknowledging the best design thinking for sustainability and social responsibility.
With this mission, EDG is committed to serving a community of like-minded companies that truly express sustainability in their business strategies, brand identities, and visual designs.
Follow Stan on: