Blog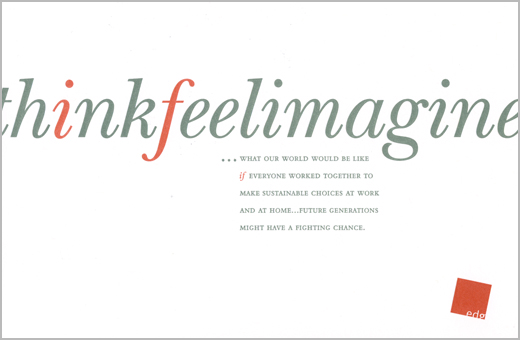 Evenson Design Group, a 33 year old branding design firm in Los Angeles,
announces a bold new series of initiatives intended to promote sustainable thinking,
and advance the sustainability conversation within the realm of branding, marketing
and communication design. With a slew of fresh ideas, inspiration, and insights, this boutique agency has taken a leadership role in articulating an inspired vision for a
more sustainable economic future.
Los Angeles, CA. (PRWeb) November 5, 2008 – After three decades of creating distinctive designs and marketing campaigns for its diverse clientele, Evenson Design Group (EDG) is now making big waves in the sustainable business community with a fresh slate of ambitious, highly visible sustainability initiatives. From the unveiling of a next-generation eco chic website, to the promotion of a hip new 'persuasion manual' for green visionaries, this 33 year old firm has staked their claim as a genuine thought-leader in the area of branding and design in order to conserve an ecological balance by avoiding depletion of natural resources.
EDG founder and visionary Stan Evenson couldn't be more inspired. "It's been a long time coming. We had to do a lot of soul searching to overcome our green guilt to find our own unique way of contributing, but we've finally done it. We've found our voice. And the results we're getting speak for themselves."
Having recently attracted a variety of high-profile sustainable and socially conscious clients, EDG has become anything but complacent. Their eye-catching new website has been designed to create a fresh, more inspired conversation between the design industry and those brands that seek to communicate an authentically sustainable vision. And, with their sponsorship of the much anticipated Opportunity Green Conference in Los Angeles (November 8–9), their pioneering debut into the sustainability realm will reach a new level of visibility.
"We've discovered a highly unique and pragmatic approach to the messaging and
design of sustainability." says John Marshall Roberts, EDG communication strategist
and outspoken author of Igniting Inspiration: A Persuasion Manual for Visionaries.
"To us, being sustainable goes beyond using properly sourced materials. Sustainability is fundamentally about innovation, integrity, and inspiration in addition to environmentalism. The future belongs to those with a belief in the human spirit, and the willingness to create sustainable messages that call upon the higher source of human nature. This is the
belief that propelled Barack Obama to the presidency, and we believe it will also propel environmentally and socially conscious companies to the forefront of the new green economy. "
But will this aspirational approach work in an economy that fluctuates randomly from bad to worse? To this question Stan and the rest of the team give a resounding and unequivocal 'yes'.
"We are completely on board with the vision, every single one of us. This conviction comes across to our clients and shows up in the creative work we do for them. Nothing is more profitable than an authentic, inspired vision. Why else would we continue to attract new clients at a time when the rest of the economy is in flux?"
It's hard to argue with success, but the future remains a mystery. Will the mass skeptical mainstream consumers overcome their anxieties to join in this broader vision? Can branding and communication play a part in helping to rebuild our economy to a more green, sustainable future? EDG is ready to prove that it can–one client at a time.
About Evenson Design Group
EDG is a full service branding and design firm with a passionate commitment to sustainability. They have been creating enduring brands for more than thirty years,
and are committed to serving a community of like-minded companies that truly express sustainability in their business strategies, brand identities, and visual designs.