Blog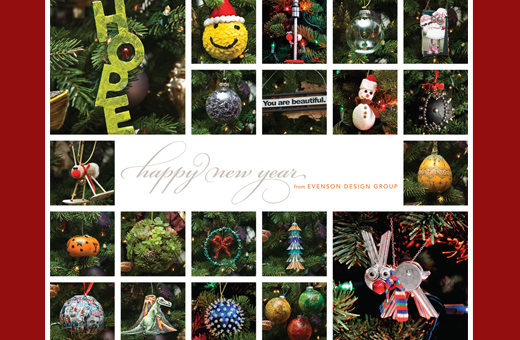 Over the past 15 years during the winter holiday, my creative team and their significant others have had an opportunity to create magic with their own custom designed ornaments for our annual Holiday Party.
Similar to a White Elephant gift exchange game, these glistening gems or irreverent and impractical creations are gift wrapped without a hint of who the creator might have been. This EDG traditional game begins with everyone drawing a number. Then each number is sequentially called. Mystery and surprise await the participants as each ornament is selected and opened, it's maker then revealed. It's always fun to give and receive, but sometimes one must risk retaliation back at the office to get their hands on one of the highly coveted masterpieces. Expletives are exchanged and tempers flare as these works of art are often stolen from participants, not once, but twice, before they become safe. In the end, however, huge smiles always adorn each player when the game is finished.
Over the years we've seen it all! A bejeweled ornament so sweet Hallmark would be proud, a drunken Santa in a snow globe, a Rubik's Cube like never before or this year's, irresistible, Rudolf made from recyclable artifacts in a kitchen junk drawer. Best of all, whether players head home with a sport sock snowman or a festive flying toilet everyone has a blast just playing the game!