Blog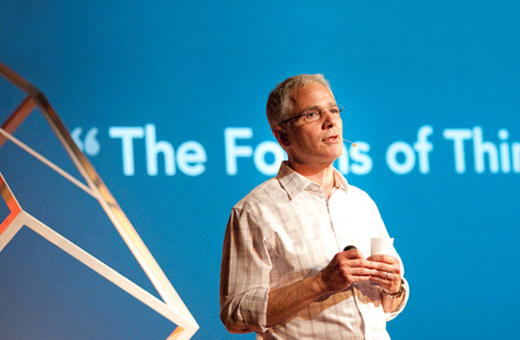 Both Tricia and I (Stan) are alumni of the famed Art Center College of Design. Tricia graduated in 1985 and I, in 1974. So receiving a job from our beloved alma mater was a complete thrill for us.
This incredible project was originally initiated by the ACCD Marketing Director, Teri Bond, who explained to us that the President of the school, Dr. Lorne Buchman, had been scheduled for a TEDx talk for June 9. Dr. Buchman was in need of a phenomenal, (or in lay terms…some really kick-ass) visuals for his presentation that would enhance and illustrate his dynamic talk about the "Power of Improvisation" and it's crucial role for understanding and creating in the world.
For the past 36 years EDG has successfully encountered and met extreme deadline challenges time after time and we have consistently delivered beyond our client's expectation. So why was this any different? Well…by the time we actually received the content we were only 5 days out from the deadline and the clock was ticking—loudly. Within this impending, and near impossible target date we needed to digest his theme, research and acquire appropriate visuals, develop and animate a powerful and effective slide deck for Dr. Buchman, and also allow for a technical run through and rehearsal time for Lorne. The pressure was building, but our creative juices were flowing. It was a race to the finish and true to our past performance, we delivered a stellar presentation, just in the nick of time.
So sit back for 26 minutes and hear Dr. Lorne Buchman expound about this very intriguing concept; improv.